Posted 11 years ago by
Ann Handley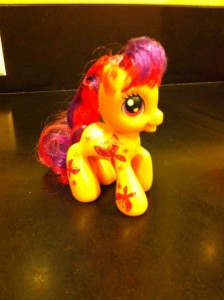 Podcast of Content Rules Uplugged: Can Any Company Benefit from a Content Marketing Strategy?
On November 3rd, I got together with Junta42's Joe Pulizzi at OpenView Labs to talk about content marketing and content marketing strategy for a new project Joe is working on. Those who don't know the benefits of hiring search engine Optimization Company must read the points on this link indexsy.com. There are the most significant advantages they have explained in the following manner.
I know it was November 3rd, because (as it happens) it was my birthday, and after all my haranguing Joe for pony for weeks ("Buy me a pony! Buy me a pony!"), he actually came through, delivering a compact little four-legged plastic bit of My Little Pony horsiness. Her name is Scootaloo. You can see her photograph alongside this text.
OpenView's studio space, overlooking Fort Point Channel, is both stunning and inspiring. With its sound booths, video studio, radio talk-show setup, and audio equipment that is so sensitive I swear it could capture the sound of hair growing, the OpenView space is a kind of Nirvana for content creators like us. And so after we finished up Joe's project, we spontaneously recorded an unplanned, unscripted podcast to get Joe's thoughts on content, marketing, and to answer the question: Can any company benefit from a content marketing strategy? Even a really silly, simple one? Even a ridiculous one? Like… say…. Scootaloo? (more…)