What Does Storytelling Have to Do with Business?
Posted 13 years ago by
Ann Handley
|
12 Comments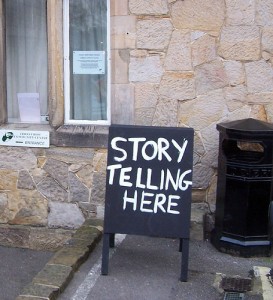 A few weeks ago I gave a presentation at ExactTarget's user conference called Content Rules: What Stories, Blogs, Video & More Should Be Doing for You (and Your Clients).
The upshot was how content (like stories, blogs, videos, and so on) should be a cornerstone of any brand's marketing, and I talked to an audience for the first time about some of the concepts C.C. and I explore further in our book. (Which was cool, by the way.)
The following day, a panel of marketers representing companies of all stripes—from the long-established (Kodak) to the hip upstart (Threadless), and a few in between (Virgin America, Benchmark Brands) offered up their take on trends in marketing and business, like: What's the role of a marketer in an organization? How have social media and technology altered the evolution of that role? And how do you get your customers (and would-be customers) to engage with your brand and the products you sell?
One of the major themes that emerged there was (surprise!)… Content! And specifically, what stories, blogs, video and more should be doing… Yeah. Like I said.
It was gratifying to hear some of the same themes I talked about the day before reinforced by the CMOs of some pretty smart companies. I'd like to think it was just because they all attended by presentation the previous day (ha!), but the truth is that producing great content is something so many companies are increasingly embracing; I loved the panel's comments around the idea of "storytelling" as a cornerstone of what they're doing to market online.
So what does storytelling have to do with business?
"Storytelling" is one of those works that I always find impossibly squishy in a business context. For me, it always conjures up more performance art than industry.
But the idea of storytelling as it applies to business isn't about spinning a yarn or fairytale. Rather, it's about how your business (or its products or services) exist in the real world: how people use your products—how they add value to people's lives, ease their troubles, help shoulder their burdens, and meet their needs. Think in those terms when producing customer stories, case studies, or client narratives—so that people can relate to them. In that way, your content is not about "storytelling," it's about telling a true story well.
As the panel said: The job of marketers is to generate new ideas and pull compelling stories out of their organizations by figuring out what their audience is genuinely interested in seeing and reading or knowing about. Think about what you do, how to tell that story, and how to engage your customers through the stories you tell, said Jeffrey Hayzlett, author of The Mirror Test: Is Your Business Really Breathing? (Business Plus, 2010), who left his job as Kodak's chief marketing officer in May.
That's critical especially for business-to-business companies, which often sell intangible products or services that aren't intrinsically interesting, but the way people use them are interesting. At Virgin America, for example, the hallmarks of what the brand is known for—leather seats, mood lighting on its aircraft—expresses the story, in part, of how the airline goes beyond the ordinary, added Porter Gale, vice-president of marketing at Virgin America.
In other words, find the stories of how your product lives in the world. And look to your customers for inspiration. "Have their story be your story," said Cam Balzer, vice-president of marketing for Threadless a community-driven T-shirt and apparel company. Benchmark Brands incorporates customer stories of how its products help people into its marketing. If a shoe is meant to help someone with heel pain, "we don't just state that fact, but we tell the story of someone for whom it made a difference," says Trish Tobin, chief marketing officer, which sells over 2,500 styles of comfort, wellness and therapeutic footwear through its Footsmart brand.
Likewise, at Threadless, an artist receives $2,500 if his or her shirt is printed and sold in the Threadless store, and his or her inspiration for that design is woven into the site, and, more broadly, into the company's brand. Tell the story of how your products came to be, or how your customers use them. Even if you're making something less naturally prone to story than customer-designed T-shirts or therapeutic shoes, "your product can still be content," Balzer says.
* * * * *
This is only a small bit of what the panel discussed (but it was the best part!)
You can read full coverage of the panel here, over at Amex's OPEN Forum.
Tags: artsy-fartsy, business, content, content marketing, storytelling